Foreword by Natalie Richy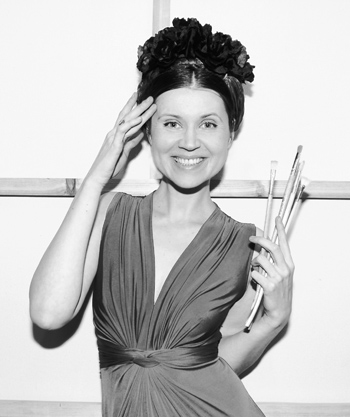 "I would like to thank Vladimir London and Sophie Golden for letting me to review this book.
"Fine Art – Your Fame & Wealth. Who if not you?"
I was curious what information the book might contain. When I asked them, they answered that their intention is to explain in simple terms what the current fine-art-industry marketplace has become recently, and to provide some no-nonsense, tested and proven solutions that fine artists can use to propel their creative career forward. I waited in anticipation for the book's release, and I finally got my chance to read it.
I have known Sophie and Vladimir for some time. I knew what brands and celebrities Vladimir had helped to promote to the pinnacle of their success, and I was witnessing how incredibly fast Sophie had established her name as a recognisable brand on the fine art marketplace. I was sure this book would be very useful to anyone who is looking for ideas for self promotion in the art field. To my great surprise and joy, the book surpasses all of my expectations.
"Fine Art – Your Fame and Wealth. Who if not you?" has turned out to be one of the best practical books a fine artist could ask for. From the very first page, my attention was on every single word the authors had put in it. I couldn't stop reading until I reached the very end. This was a great and enjoyable experience. The book is packed with useful information and the structure makes it easy to follow.
This is the only handbook a fine artist will need to master the techniques of self-promotion, in their desire to acquire fame and wealth.
I recommend "Fine Art – Your Fame and Wealth. Who if not you?" to all creative people who take their art career seriously. Enjoy your new book, read it one chapter at a time, and most importantly, put your new knowledge into practice. I encourage you to read this book carefully and apply every small step towards success. Only artists who take action get results.
Thank you, Vladimir and Sophie, for allowing me to say a few words in this precious book."
Natalie Richy
https://NatalieRichy.com
---
Authors:
Vladimir London is the internationally published author and fine art tutor.
Co-author Sophie Golden is young and already successful Fine Artist, who also would like to remain unknown from the marketing perspective because it isn't in her interest to be tagged as "aggressive Self-Promoter" or "too business oriented" since she has established reputation as a sensitive artist. 90% of her Self-Promotion campaigns she was doing unanimously as a third person.
Under Vladimir's support and instructions she went through all points described in this book and as a result she is having regular exhibitions around the world and sells her art pieces.
Get this Book and Bonuses Now!
"FINE ART: YOUR FAME & WEALTH.
Who if not You?"
Only $27
After secure PayPal payment, you will get instant access to the download area.