Fine Art: Your Fame and Wealth. Who if not you?
Book by Vladimir London and Sophie Golden
What this book is about:
This book reveals the secrets of how You can build a Successful Career in Art
It provides the easy-to-follow practical Guidelines:
How to achieve fame and wealth doing it yourself
How to build success in art on a limited budget
How to become successful using limited time resources
How to to make new technologies working hard for you
How to use the power of social media to expand your reach
How to get art galleries and dealers' interest
How to monetize your art on autopilot
The book Fine Art – Your Fame and Wealth. Who if not you? exposes the shocking truth about the conspiracy against Fine Artists and reveals the secrets of how You can become a Famous and Wealthy Artist.
It describes in detail:
How to generate buzz around your name, so you can get Attention from Fine Art Galleries, Fans, Auction Houses and Private Collectors.
How to start earning monthly residual income on autopilot. It teaches how to set up a Platform when you create Your artwork only once and receive Profits from it over and over again.
How to get Results with no marketing budget and little personal time.
How to build an army of art fans and followers, so you can be noticed by worldwide communities.
How to build a responsive Email List of gallery owners, private collectors and fans, so you can deliver at a push of a button Your Art News and Updates and Sells Your Products.
This is truly a "do it once" solution. Your new Fine Art 'Real Estate' is Your pension fund.
Why this Book is for You:
If you are serious about Your career in art and want to master the techniques of Self-Promotion, this book is for You.
Answer honestly to yourself:
Are you satisfied with the income from your art?
Are you absolutely sure your current art career is at its pinnacle and can't be improved?
Are you happy with the results you have?
If the answer is "No," you must have this book. This is the only handbook you will need on your path to acquire fame and wealth.
This is one of the best practical books a fine artist could ask for. It is packed with useful information and will grab your attention from the very first page.
What you will get:
You will get more than just one book!
In addition, you will download Five Valuable Bonuses absolutely FREE (they cost much more than you pay for this book).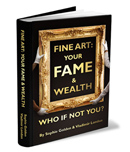 FINE ART: YOUR FAME AND WEALTH. Who if Not You? e-BOOK
Practical Self-Promotion Guide every Artist Must have
Only $27
---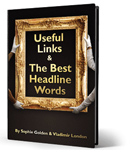 Bonus 1 "Fine Art: Your Fame and Wealth" Book Appendixes
e-BOOK
Useful Links and The Best Headline Words. The collection of well chosen resources your Fine Art Career will benefit from – Free!
---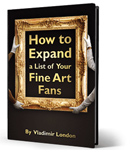 Bonus 2 "How to Expand a List of Your Fine Art Fans"
e-BOOK
The top 37 secrets exposed! How how to build an army of your Fine Art admires – Free!
---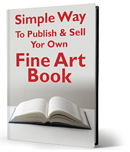 Bonus 3 Simple Way to Publish and Sell Your Own Fine Art Book
e-BOOK
The great detailed instructions on how to self-publish Your Fine Art Portfolio or Fine Art book – Free!
---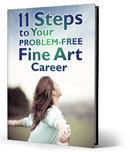 Bonus 4 11 Steps to Your Problem-Free Fine Art Career
e-BOOK
Inspirational book on solving your creative problems and finding solutions to all art life challenges – Free!
---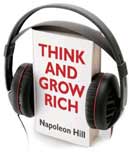 Bonus 5 Napoleon Hill's "Think And Grow Rich" – Audio Book
AUDIO BOOK
The Bestseller of all time. Now available as the audio book you can listen and read online! – Free!
"FINE ART: YOUR FAME & WEALTH.
Who if not You?" Book
Only $27
After secure PayPal payment, you will get instant access to the download area.
---
Practical Self-Promotion Guide every Artist Must have
You Can start building Your Art Career immediately

Obtain Multiple Income Streams from your art

Discover the Secrets of becoming a worldwide recognised Name in the Art World

No previous experience required

This self-promotion guide is nothing like you have ever read before
An all-in-one practical solution that can generate recognition and money even when you are asleep!
You may be sceptical at this point
Many fine artists start their art education with little knowledge of how they will become known for their art. Not everyone actually fulfils their creative career dreams. Do you know that 98% of artists are struggling on their journey to success?
Are you still struggling with poor or no results in you career?
If you can't buy a piece of bread, you definitely cannot afford to miss the opportunity of purchasing this book
As a fine artist you may think: "All I have to do is to create artworks, then send my portfolio to various galleries. Then I'll call some art dealers and clients; everyone will recognise my unique talents and exhibitions and commissions will follow."
You may be going from gallery to gallery presenting your portfolio, or calling art dealers asking them to have a look at your paintings, maybe you're sending hundreds of emails every month. Maybe you already exhibited your artwork from time to time or are even planning big shows. The matter is that despite buyers paying a lot of money for your art, your income will still be relatively small because gallery owners and art dealers will take away a lot in commission.
If you're doing the same thing over and over again, you are likely to get the same results. So, what needs to be done? How to get to the next level, where you can enjoy the benefits of being famous?
We will show you the answers in the chapters of this book.
The industry of fine art is not run by artists, but by galleries and auction owners, art dealers, brokers and managers. There are millions of fine artists worldwide, and only a few are very successful. Some of them are successful not because of their art skills and talents, but because of massive marketing support behind them. The current system has been the status quo for more than 200 years, until now. The traditional 19th and 20th century approach for artist's career building isn't suitable for the 21st century. That is unless you want to spend a long time and a lot of money making your name recognized.
Here are some shocking truths that you may not be aware of at the moment:
You may think that to make a successful career in fine art requires a lot of time. Wrong! This book will show you how to save time in every step you take on your path to creative success; how to take giant leaps toward success every time you implement the project using our strategy.
You may think that artistic success is a synonym for being lucky. Wrong! This book describes in detail how you can be in total control of your own artistic destiny, without relying on the favour of art dealers and managers.
You may think that promoting your name as a fine artist requires a lot of money. Wrong! You will discover in the following chapters how to hijack the global media and features on the latest news across the globe on a shoestring budget. Just imagine how you could benefit from such exposure.
You may think that promoting a fine artist name is a job so big and difficult that only dedicated public relations companies can undertake such a massive project. Wrong! "Fine Art – Your Fame and Wealth. Who If Not You?" will reveal how to implement the projects of promoting an artist's name on a global scale singlehandedly without employing marketing companies or public relations (PR) agencies.
You may think that making a successful artist brand name requires very specific underground knowledge. True! And you are about to find out everything you need to know to make your name recognized in the fine art world.
If you are looking for creative success don't spend another day without having this book.
The knowhow of this strategy is so fresh and unique, only a few fine artists worldwide have managed to crack this secret knowledge. Ask yourself: if the proven self-promotion strategy requires so little time and money wouldn't everyone be using it to their advantage? What is stopping other people from achieving success? The answer is: the gift of knowledge and persistence.
In this era, information is the one most powerful and valuable commodity known to man. This is exactly the reason why you should read this book: to get the necessary information about making a successful career in fine art, how to promote your name, how to be exhibited in the best art galleries, and how to demand the high prices for your art pieces that you deserve.
We will tell you a big secret here. Gallery owners and art dealers don't want you as an artist to have good self-promotion skills!
Why would they? Your website or portfolio online won't make them any money. Your artwork can be found online by potential buyers and they can buy or order commissions directly from you. What are the benefits to gallery owners and dealers if they're losing their commissions? The dream of a dealer is to sign artists on exclusive conditions where every deal or exhibition will go through them. This old traditional approach is still in practice today.
Times have changed. We will show you how to get fame and a strong negotiating position.
The new digital era has broadened horizons for fine artists, wider than ever before. You have to decide for yourself, would you like to discover and master new possibilities of promoting your name and make much bigger profits as a result, or stick to the old traditional marketing school and be poor.
Whether you are employed and dreaming of quitting your day job by becoming a successful and self-actualized fine artist, or are a student and want to escape the necessity of selling your time in the future for money, or a self-employed artist who wants to progress further in your creative career – this book is for you.
With the help of this book you will get everything you ever wanted from your art career. It is easier than ever to get astonishing professional results when you have inside knowledge of self-promotion.
This book helps you fulfil a life time dream to be an independent, famous and wealthy fine artist.
Get your copy of the most trusted guide,
"FINE ART: YOUR FAME AND WEALTH. Who if Not You?"
Today!
Only $27
After secure PayPal payment, you will get instant access to the download area.
---
Tested and proven techniques provide breakthroughs so few fine artists aware about. The book is full of innovative and extremely powerful advice that you can start benefiting from right away.
It gets phenomenal, most wanted results without any excuses:
– You DO NOT require "Luck:" You are the master of your success. After reading this book, luck will follow you when you know what to do and are ready to make your way.
– You DO NOT require "Marketing Talent:" The marketing techniques described in this book will help you to fill the knowledge gap and will guide you step by step towards success.
– You ARE NOT TOO YOUNG OR TOO OLD: In fact, every age is the best age to get started. This system works regardless of your age, education or previous experience.
– You DO NOT require "Technical Experience:" Using the methods in this guide, you can create worldwide awareness of your art and creative name without any technical knowledge. All web based tricks are simple and easy to follow.
– It Won't Be Difficult: With the specialized knowledge gathered in the chapters of this book, you will have the ability to accomplish any task with ease and comfort.
– There is NO RISK: Self marketing techniques require very little money and deliver great results.
– It Won't Take a Long Time: You may start noticing changes in your creative career in a very short time. The longer you promote yourself the better it gets.
– You DO NOT Have to be "Smart:" You are a creation of the divine mind, all is perfect and you are genius in your own rights. With a little help of from this book you will have all the necessary ingredients to change your life for the better.
– You DO NOT Require a Great Deal of Energy: When you feel passionate about your creative life and care about being successful, this passion will fill you with enough energy and excitement to get the job done.
– You Deserve It: Who if not You?
– There Are NO EXCUSES: You CAN do it.
So, what is required? Belief in yourself and action. After reading this book, you will have sufficient knowledge and understanding to put the most efficient self-promotion marketing techniques into action.
Do that, nothing more, nothing less and the results will be astonishing. You will hardly believe the number of positive changes happening to your fine art career.
Our Credentials
You may have already come across some books before on the subject of making a career in fine art. Usually such books are written by people who know the subject in theory.
This book is different. It is written by Vladimir London and Sophie Golden, who have professional, first-hand knowledge and experience in promoting creative talents worldwide.
For ten years Vladimir created marketing campaigns online, helping numerous well known brands and celebrities to promote their brands and names. Presently Vladimir is consulting with two major international entertainment corporations to help to promote their artists and events. His main marketing efforts are focused online. Recently, Vladimir was working with art galleries promoting exhibitions for several fine artists.
Co-author Sophie Golden is a young and already successful fine artist. Under Vladimir's tutelage and instructions, she went through all the points described in this book and as a result she is having regular exhibitions around the world and sells nearly every single one of her art pieces. She also compliments her income by merchandising and affiliate sales.
How You Can Benefit
The book "FINE ART: YOUR FAME and WEALTH. Who if not You?" is Your ultimate guide to achieving success in your fine art career. You will discover how you can:
Achieve a higher level of joy you feel by creating your artworks
Attain freedom in your creative process
Grow your inspirational expansion
As sub-products and consequences of your creative success you will also receive the combination of following achievements:
A well recognized name similar to the status of a celebrity.
Becoming comfortably self sufficient and fully reliable on your income from fine art.
Being sought after by gallery owners and art dealers and being able to afford being choosy where and when to exhibit.
Making partnership and sponsorship deals with worldwide recognized business corporations.
Having a greater chance to be placed in the history of art with relevant recognition in the form of being collected by major museums and public galleries, as well as private collectors and investors around the world.
Get the kind of lifestyle you want.
Here's what fine artists who read this book say:
COMMENT BY – Robert D'Art
"Honestly I was really shocked discovering how the whole fine art marketplace is organised and how all middlemen like art dealers abuse artists' interests. This is my last year in art college and thanks to all the information I got from this book, now I can clearly understand what to do step by step to get to the very top in my fine art career. Looking forward to fame and wealth."
User rating:
COMMENT BY – Gosia S.
"My father is an abstract painter, so I'm an artist in second generation. My father struggled all his life in hope of becoming a full-time successful artist. Now we are studying this book together. The book is tremendous as a guide and information source as well. We've already implemented some things described in this book in practice and because his popularity skyrocketed he was able to sell all his paintings at his last exhibition three times more expensive than ever! Now we are preparing our duet exhibition. "Fine Art: Your Fame and Wealth," really has given us what is says on the cover!"
User rating:
COMMENT BY – Garry L.
"Ok – Looks like authors have made the impossible… it's been an exciting journey all the way reading the book. I've already increased popularity of my website twice."
User rating:
COMMENT BY – Stuart M
"I have found this book most helpful and thorough. Their work is on time and very professional. I truly appreciate their quality work."
User rating:
COMMENT BY – K. Loper
"Great Book! Great content! Are you guys fans of Salvador Dali? He should be furious that he didn't have such opportunities you described in the book. BTW – thanks!"
User rating:
COMMENT BY – Dorothy H.
"This great book is exactly what I needed for last 17 years of my "career". Where were you all these years?"
User rating:
COMMENT BY – Natasha J.
"You are geniuses. I had no idea somebody could offer such informative content! I'm trying your system out right now. Thank you for such a brilliant guide. After nine years since creating my first painting and looking to find ways to sell my works I suddenly get first positive results. I have already sold eight paintings by applying your advice. Thank you, thank you thank, you thank you!"
User rating:
The Book Contents:
You might be wondering what the secret is. The very short answer is new technologies, which have become available very recently. For centuries, fine artists didn't have such possibilities. Now anyone can take the matter into their own hands and be the master of their own success.
In 18 chapters of the book "FINE ART: YOUR FAME and WEALTH. Who if not You?" you will discover:
The "blueprint" of employing unprecedented opportunities
The contemporary fine art marketplace
The definition of success. Who if not you?
If you have the proper mind-set of a successful fine artist?
If you want fame and wealth, how can you get it?
To establishing your brand, your key to global recognition
The old traditional way, what you didn't know and the nine biggest mistakes and how to avoid them when promoting your art
How the Internet revolution gets you success in a smart and elegant way
The easiest way to become rich and famous
The efficient method of building your fine art real estate online
The power of the underground techniques to stay ahead of the competition
How the magic of social profiles and networking connects your brand with followers
Copywriting for maximum results
How to build a huge base of your loyal fans and collectors of your art
The system which gets crowds of admirers to your website
Analyzing Your Online Performance
How your money finds you
Lucrative opportunities that bring you revenue streams
If You Want Fame, Recognition, and Profits from Your Art this Book is for You!
We know that the information presented in the book "FINE ART: YOUR FAME & WEALTH. Who if not You?" is very powerful and will not keep this book on sale for long. This book will be available only for a limited time and when it's gone, it's gone. Do not miss your chance to grab these needed secrets to promote your fine art career.
"FINE ART: YOUR FAME & WEALTH.
Who if not You?" Book
Only $27
After secure PayPal payment, you will get instant access to the download area.
---
Our Personal Guarantee
We know what you're probably thinking right now. Part of you is saying: What if all this does not work for me? And another part is asking: Is this really possible? Could my fine art career be changed for the better? Open your mind and ask yourself, if you are reading these words, there must be a reason for it. How can your life change if you take the opportunity to just read this book?
Here is our personal guarantee: If you buy this book and decide that your own success isn't important and has no value for you; you can have ALL YOUR MONEY BACK no questions asked. This book offers you the quickest and most guaranteed way to get fame and wealth.
There is nothing to risk and everything to gain!
TAKE ACTION NOW!
Your Future Is Now Here
Wave Good-bye to the struggling fine artist existence.
Start building your fame and wealth today!
Hands-down this will be the best investment you will make this year!
Say YES to success
YES! Vladimir and Sophie, I am Ready To Download the Book "FINE ART: YOUR FAME and WEALTH. Who if not You?"Plus all the Bonuses NOW!
I know that I am fully protected by no-question-asked money back guarantee.

I am ready to get my hands on this powerful Self-Promotion Guide and discover secrets of becoming a Successful Fine Artist!

I understand that I will be billed a onetime payment of $27 today.
Get Special Offer today including the book and all bonuses at a massive $110 Off The Combined Regular Price!
Download "FINE ART: YOUR FAME & WEALTH. Who if not You?" book and all bonuses NOW
For Bargain $137 $97 $27 only!
"FINE ART: YOUR FAME & WEALTH.
Who if not You?" Book
Only $27
After secure PayPal payment, you will get instant access to the download area.
To Your Success, Global Recognition, Fame and Profit.
Vladimir London and Sophie Golden
P.S. There is no other book like this. This never seen before, powerful guide is your one stop destination to fame and wealth you deserve. Claim your copy of this fantastic book today. Act fast and you will also get the valuable bonuses you cannot afford to miss.
P.P.S. You are protected by our Personal Guarantee. Get ready for Your Fame and Wealth.